Welcome to INDIA SPCIE HOUSE online store.
Navigation:
Navigation menu is accessible below "Logo".
Clicking on "Grocery" / "Organic" / "Produce" will display dropdown navigation. It contains all the Departments and Categories.
3. Select the Department under a category that you wish to purchase items. This will navigate you to Department page.
Select an item to see quick view or detail page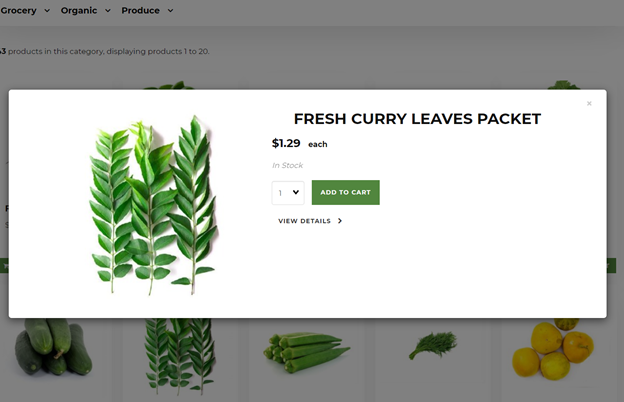 Order Process:
Select Quantity required from the Dropdown and Press "ADD TO CART" to add an item to cart and continue shopping.
When you are ready to checkout please select cart/bag symbol on top.
Selecting "Edit Cart" will allow you to update quantity or make changes to your cart before checkout.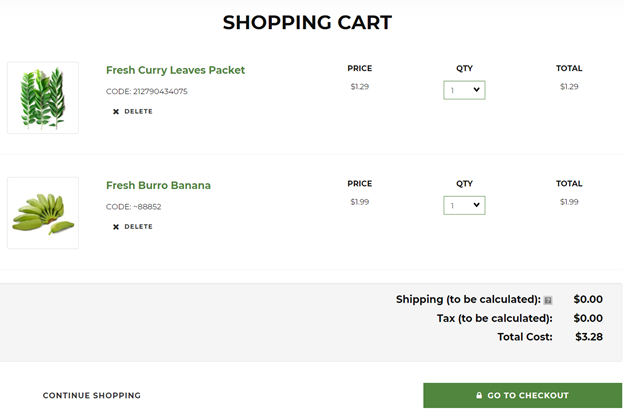 Click on the "GO TO CHECKOUT" will navigate to the Check Out Screen. On this screen you should enter your Billing Address, Enter the Payment Details and Select "Curbside Pick Up" Option for Shipping Method.
We request our customers to create an account for order tracking, order history and other features. It is not mandatory to have account.
Fill all the details on Check out page.
Existing Customers:
Login using Sign-In Screen

Press "CONFIRM & PAY".
You will receive an email with order confirmation.
We will send you an email once your order has been packed and ready for pick up.